Migrating butterflies covered 2.79 acres in wintering grounds but World Wildlife Fund says they suffer from habitat loss in US, illegal logging and climate change
Tuesday 27 January 2015 18.00 GMT
The number of monarch butterflies that reached wintering grounds in Mexico has rebounded 69% from last year's lowest-on-record levels, but their numbers remain very low, according to the World
Wildlife
Fund.
Last year, the monarchs covered only 1.65 acres (0.67 hectares), the smallest area since record-keeping began in 1993.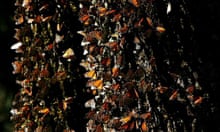 This year, the butterflies rebounded, to cover 2.79 acres (1.13 hectares), according to a formal census by Mexican environmental authorities and scientists released on Tuesday.
The orange-and-black butterflies are suffering from loss of milkweed habitat in the United States, illegal logging in Mexico and climate change. Each year, the butterflies make a migration from Canada to Mexico and find the same pine and fir forests to spend the winter, even though no butterfly lives to make the round trip.