The scarce tortoiseshell has overwintered in Britain for the first time leading conservationists to hope the butterfly could also breed here for the first time this year
Thursday 19 March 2015 16.32 GMT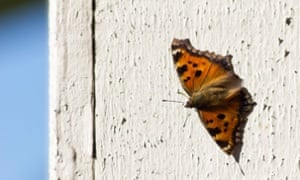 Photograph: Alamy
A rare continental butterfly which until last summer had only once before been seen in Britain has survived the winter, raising hopes it will breed here for the first time.
One of the butterflies was seen again over two days last week in Holt country park, Norfolk, a sign it successfully hibernated over winter.
According to Butterfly Conservation's head of monitoring, Dr Tom Brereton, the woods near Holt provide suitable conditions for the butterfly, which feeds on sap from birch trees in the spring and lays eggs on willows.