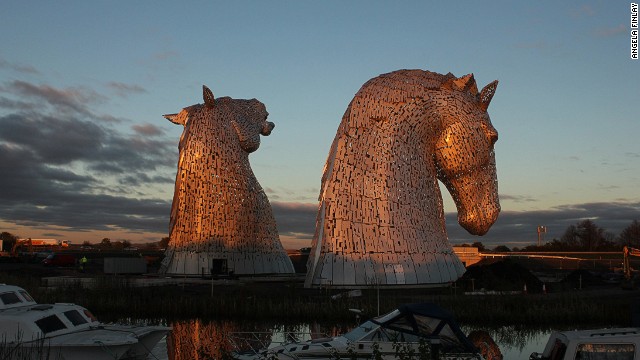 (CNN) -- Forget the Loch Ness Monster -- Scotland has a new pair of mythical beasts to lure curious tourists to its shores.
Standing proudly 25 miles from Edinburgh, "The Kelpies" are the world's largest equine sculptures, and it is hoped they'll become just as famous as old "Nessie."
The name, rooted in Celtic folklore, refers to a supernatural water horse that was said to stalk the rivers and lochs of Scotland.
Despite that fertile source of inspiration, sculptor Andy Scott opted to shun the esoteric to stay rooted in reality, creating a piece that performs a dual role -- as a monument to industry and a beacon of regeneration.