Posted: 04/03/2014 2:23 pm EDT Updated: 04/03/2014 10:59 pm EDT
It takes a lot of staff to perform surgery on a fish. You need someone to continually run syringes of water over the left gill, another person to take care of the right, and a third to refill the syringes, so that the patient will not asphyxiate during the procedure.
Then there's the surgeon, who is one of the only people in the world taking a knife to this sort of animal with good -- as opposed to good-tasting -- intentions.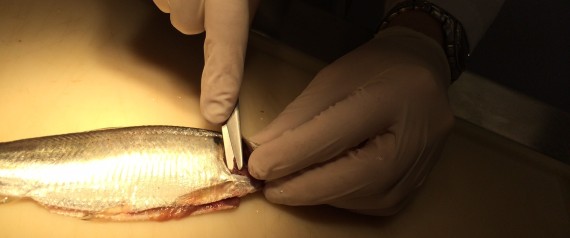 Colin McDermott says that not a lot of people really understand what he does for work as one of the four veterinarians on staff at the National Aquarium in Baltimore. Even McDermott's fiancée seems a little mystified as to what fills the day of someone caring for some 17,000 fish, birds, sharks, reptiles, bats, sloths, dolphins, turtles and other marine animals, and she's a vet, too -- albeit one for "cats and dogs," he says.
To try to give the general public a little insight into that mystery, about five weeks ago the National Aquarium began opening up its medical facilities to visitors, as part of what they are calling "immersion tours." Folks curious about how macaws can be given anesthesia, for example, can check out the aquarium's veterinary quarters for about an hour and a half or so while McDermott tries to make his work a little more relatable.