CINCINNATI (AP) — A southwest Ohio family is searching for Sasquatch no longer.
The Spence family in Delhi Township, west of Cincinnati, says their 400-pound concrete statue of the mythical beast, which was reported stolen Saturday, has been found.
Sixty-one-year-old Ralph Spence says his two sons bought the statue for him several years ago. They affectionately call it "Squashy."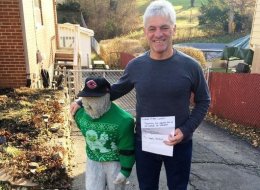 Though it started out as a practical joke, the statue became part of the family. They even dress it up for holidays.
Spence says he received a call from a friend Tuesday who saw the statue in a nearby open field. A note found with the statue poked fun at its weight, and was signed by "the body building bandits."
Spence says Squashy is "a legend around here in the neighborhood."