International policing agency's public appeal targets nine dangerous fugitives suspected of crimes involving poaching and illegal logging
Interpol wanted Operation Infra-Terra (top row from left to right): Adriano Giacobone, Sudiman Sunoto, Bhekumusa Mawillis Shiba and Ben Simasiku; (bottom raw from left to right): Nicolaas Antonius Cornelis Maria Duindam, Ariel Bustamante Sanchez, Sergey Darminov and Feisal Mohamed Ali Photograph: Photograph: Interpol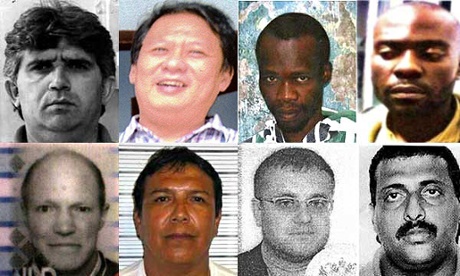 Suspects wanted for crimes including poaching rhino, trafficking ivory and illegally chopping down forests feature on the first ever Most Wanted-style appeal to catch environmental criminals.
Interpol's public appeal hopes to catch nine fugitives suspected of environmental crimes costing hundreds of millions of dollars, in a move to catapult the issue to the forefront of international law enforcement.
Stefano Carvelli, the head of Interpol's fugitive investigative support unit, said that the offences were only the tip of the iceberg of an environmental crime wave, which agency reports have estimated to be worth $70bn-$213bn annually.
"If we talk about illegal logging, we have many pending cases," he said. "We also have many serious biodiversity cases. The problem is very big, I can feel it. These are crimes with many, many different parameters."