Animal charity says that around double the usual number of hedgehogs are being brought in to be nurtured back to health
Tuesday 25 November 2014 14.21 GMT
Some arrived when they were little bigger than a human thumb after becoming separated from their families, while others turned up bigger and beefier, but in desperate need of antibiotics for prickly little coughs. One creature had to be rushed in after a close encounter with a bonfire.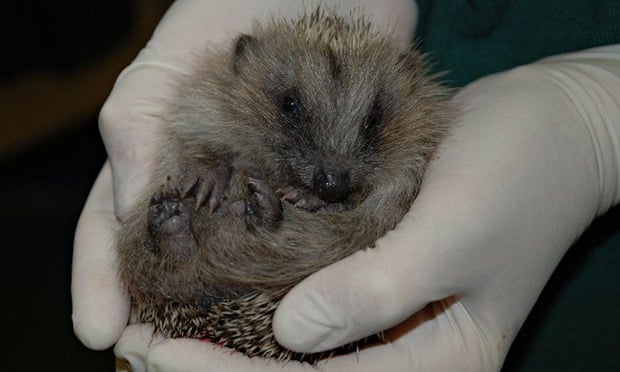 One of the hoglets at the RSPCA's West Hatch
centre in Somerset. Photograph: RSPCA
The animal charity the RSPCA is reporting a bumper year for hedgehog rescues with around double the usual number being brought in to be nurtured back to health before being released again into the wild.
"Nobody is sure why we have so many," said Carol Noble, wildlife care assistant at the RSPCA's West Hatch centre in Somerset as she carefully removed one of her charges from its bed of shredded newspaper for its daily weigh-in. "But they are certainly keeping us busy."
Four rooms at the centre near Taunton are full of crates containing 60 snoozing, snuffling – and sometimes snapping – hogs.