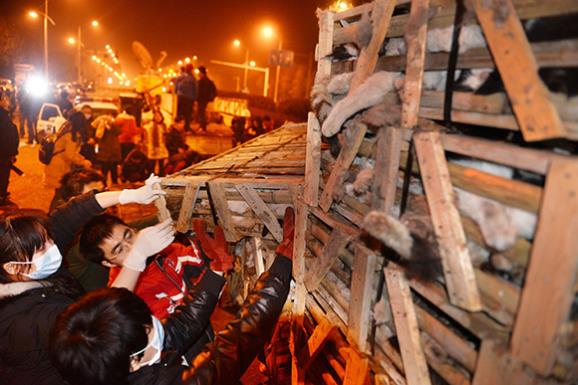 A truck involved in a road accident in Changsha, capital of southern China's Hunan Province, turned out to be loaded with dozens of boxes stuffed with living cats.
When news broke of the discovery, dozens of animal rights activists flocked to the scene to "liberate" the animals.

The truck was loaded with around 50 boxes. The total number of cats was estimated to be around 1,000.
The driver of the truck reportedly told the volunteers: "You guys have no rights to touch my cargo" and "if you let go the cats I'll have to cover all the compensations to the cargo owner."
Police refused to let the cats be taken away by the volunteers, despite the driver being unable to produce the correct documents for the transportation of animals.
Animal rights activists insist the cats were illegally captured and were on their way to be slaughtered for food in the city of Guangdong, where cat and snake is used in a popular dish known as Fight of Dragon and Tiger.