Species moved from vulnerable to endangered list after numbers drop by 80% to about 8,000 in just three isolated pockets in south-west Western Australia
Western ringtail possums have been placed on the endangered list, with some studies estimating there are as few as 8,000 adults of the species in the wild.
The species' status was changed from vulnerable to endangered, the second highest risk level, in the annual review of the Western Australian threatened species list, announced by the state's environment minister, Albert Jacob, on Tuesday.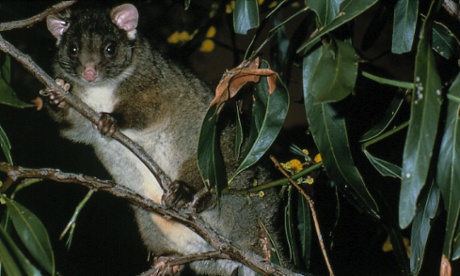 Photograph: WA Parks and Wildlife
The possums live in three isolated pockets in south-western WA: the Swan coastal plain, near Busselton; the southern forests, near Manjimup; and the south coast, near Albany.
Dr Ken Atkins from Parks and Wildlife WA told Guardian Australia the Action Plan for Australian Mammals recommended the possums be listed as critically endangered, the highest level of risk, based on studies of the southern forest and Busselton populations.
"We decided that it was getting close to critically endangered, but taking a conservative approach it was still in the endangered category," he said.
Atkins said one study of the southern forests population showed an 80% decline in numbers over the past 10 years, which it attributed to feral cats and foxes.
There are no firm numbers for the Busselton and Albany populations, but Atkins said both areas suffered from habitat destruction as land was cleared for housing developments.