BBC Environment Correspondent
An invasive caterpillar that feeds on hedges is starting to spread from its established base in London across the UK, experts warn.
The box tree caterpillar is the larval stage of a moth native to the Far East and India.
An infestation can reduce the glossy green leaves of a box hedge to a faded skeleton within a few days of hatching.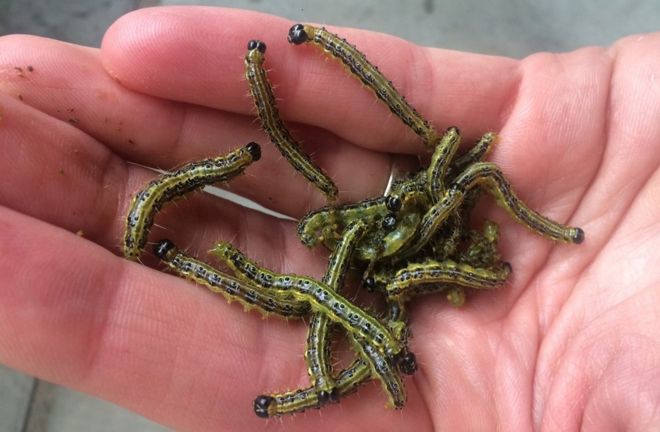 The Royal Horticultural Society (RHS) says it is now receiving three or four reports of infestations a day.
There have been more than 150 reports already this year, compared with 20 last year, and just three in 2011.
It's devastating, like a bereavement. The speed is extraordinaryPenny Tham, Gardener
Initially limited to a small area of south west London, there have now been reports of the box tree caterpillar (Diaphania perspectalis) in areas outside the M25 and in Essex.
Dr Hayley Jones, an entomologist with the RHS, said: "The key thing is that it is established - it has survived throughout the winter and is breeding. It has a foot in the door and is now building up in numbers."
The moth first became established in Europe in 2007 and was first reported in the UK in 2008. By the end of 2014 it became apparent that it had established itself in some parts of London.
Experts believe that it originated in China and either flew across the English Channel or stowed away in containers of imported plants.