Residents are warned to take more care as 2015's figure is announced – it's a high one, based on recent years, although not a record
Friday 1 January 2016 07.29 GMTLast modified on Friday 1 January 201607.31 GMT
Wildlife rangers pulled almost 300 saltwater crocodiles from
Northern Territory
waterways in 2015, more than in either of the two previous years.
As part of its population management program, the Parks and Wildlife Commission NT (PWCNT) removed 290 crocodiles of various sizes from NT rivers, harbours and waterholes, the largest measuring 4.38m from the Daly River.
Two crocodiles which were smaller than two metres were pulled from Shoal Bay on Thursday.
The figure is slightly about 2014's 287 and well beyond the previous year's 226. The highest number of crocodiles removed by PWCNT staff was 318 in 2012.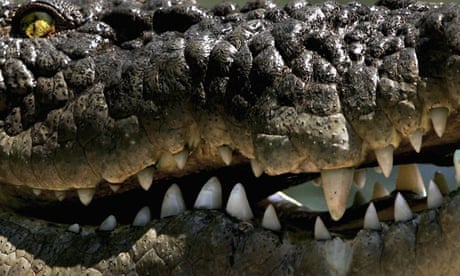 Rangers use a combination of baited traps and boats custom-fitted with harpoon racks, slides, a self draining deck and side rails to catch the "problem animals".
All crocodiles are caught alive, and taken to the NT's crocodile farms, which pay a "nominal fee" to the government based on size and weight, and "can do what they like with them," PWCNT wildlife ranger Tom Nichols told Guardian Australia.