Hive the size of a large pumpkin found at top of 17-metre tree
A giant Asian hornets' nest has been found in a tree in Gloucestershire, prompting concern from Government experts about the species' threat to bee populations.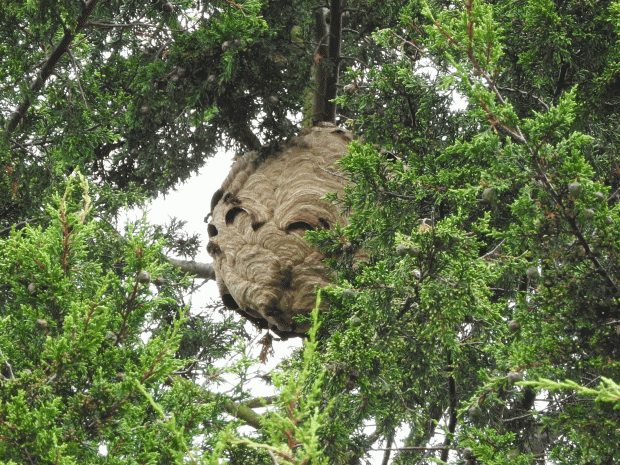 National Bee Unit
The hive, which was located at the top of a 17-metre tree and is the size of a large pumpkin, has now been destroyed.
The Asian hornet is smaller than bees native to the UK and they pose a risk to honey bees.
Steps are being taken to locate, destroy and remove any nests that are found and experts have been deployed across the area.
Nicola Spence, Defra Deputy Director for Plant and Bee Health, said the bees pose no greater risk to human health than those already present in the UK.
"We have been anticipating the arrival of the Asian hornet for some years and are implementing our well-established protocol to eradicate them and control their spread," Ms Spence said.
"It is important to remember they pose no greater risk to human health than a bee, though we recognise the damage they can cause to honey bee colonies. That's why we are taking swift and robust action to identify and destroy any nests.
"We remain vigilant across the country, working closely with the National Bee Unit and their nationwide network of bee inspectors."
It comes after sightings of the Asian hornet in Somerset.
Tim Lovett, of the British Beekeepers Association, said the evidence suggests the invasion started a while ago.