Rare find in Blackdown Hills in Somerset hailed as 'fantastic' at a time when Britain's population of dormice is under threat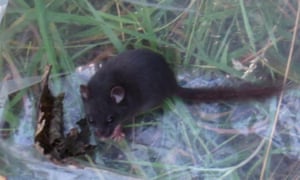 Photograph: Natural Futures
Steven Morris
Monday 3 October 2016 17.22 BST Last modified on Monday 3 October 2016 17.23 BST
The first black dormouse ever recorded in the UK has taken up residence in a nest box in the Blackdown Hills of Somerset.
Britain has only one native species of dormouse, the hazel dormouse. The one discovered in Somerset is a hazel dormouse but instead of having the normal golden-brown fur it is black.
A handful of black hazel dormice were found in Germany in the 1970s and two more in 2015 but it appears the Somerset specimen is a British first.
The discovery was made when staff, trainees and volunteers from the Blackdown Hills Natural Futures project were checking dormouse nest boxes as part of the national dormouse monitoring programme.
This year, the project provided 300 nest boxes and more than 60 volunteers have installed and regularly checked them. One was found to have the black specimen inside.
Conrad Barrowclough, the project officer, said: "Learning about and protecting our natural heritage is what we're all about so finding such a rare dormouse on our doorstep is fantastic, especially at a time when Britain's dormouse population is under threat."
Read on and watch video