Bad weather could delay killing on first day of controversial six-month dolphin hunting season, official says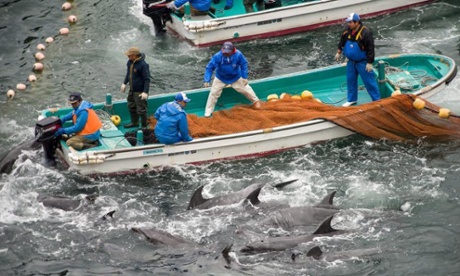 The selection process of dolphins, during the annual dolphin hunt in Taiji, Japan, 20 January 2014. Photograph: Sea Shepherd/EPA
The controversial six-month dolphin hunting season began on Monday in the infamous town of Taiji, but bad weather would delay any killing, a local official told AFP.
"The dolphin hunting season started today and will last until the end of February," said an official of the Taiji fisheries association, adding the season for hunting pilot whales, which also begins today, will last until April.
But bad weather on Monday meant there would be no hunting on the day, he said.
Environmental campaigners are already in situ to watch the hunt, the official said.