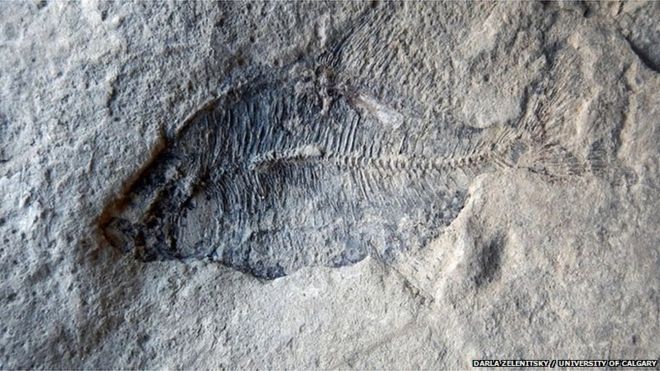 The fish fossils were found in rocks which are 60 million years old
When Calgary digger driver Edgar Nernberg came across five fish fossils in his digger bucket, he knew right away his find was "extraordinary".
The Albertan, who has a longstanding interest in fossils, was digging a basement for a new home in Calgary's north-west.
However, he realised these fossils should be seen by a palaeontologist.
"When the five fish fossils presented themselves to me in the excavator bucket, the first thing I said was you're coming home with me, the second thing was I better call a palaeontologist," Mr Nernberg said, according to a statement from the University of Calgary.
The specimens were in sandstone from the Paskapoo Formation, a Palaeocene age sedimentary rock which underlies parts of southern Alberta.
About 60 million years old, these rocks preserve evidence of life from the time following the mass extinction event at the end of the Cretaceous period, which wiped out three-quarters of all species on earth, including the dinosaurs.
"Because complete fossils are relatively rare from this time period in Alberta, any such discoveries are significant as they shed light on the nature and diversity of animals that lived not long after the extinction of the dinosaurs," said University of Calgary palaeontologist Darla Zelenitsky.