Experts in Valencia investigate death of six-tonne fin whale, which showed no sign of collision with vessel or being caught in net
Wednesday 13 May 2015 13.54 BSTLast modified on Wednesday 13 May 201514.42 BST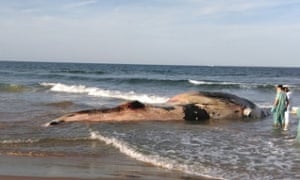 Zoologists in Valencia are investigating the death of a six-tonne whale that washed up near the shore this week.
Guardia Civil agents patrolling the area spotted the whale in shallow waters on Monday morning. They said it was floating lifelessly towards the shore and deployed a boat to protect the animal from oncoming vessels.
Five hours later, the whale washed up on a beach in Cullera, a town about 30 miles south of Valencia. Police at the scene confirmed it was dead.
Zoologists from the University of Valencia have been investigating the animal's death. They confirmed it was a fin whale, one of the most common species in the Mediterranean.