A court in India's Rajasthan state has rejected a plea to release a tiger who has been branded a killer and caged.
Nine-year-old Ustad was tranquilised and shifted from a national park to a zoo earlier this month after he killed three men, including a forest guard.
A tiger lover had petitioned the court, saying caging the tiger was against India's wildlife laws.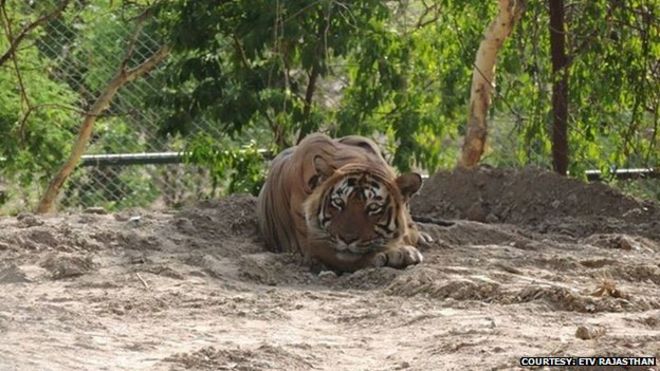 India's tiger population stood at 2,226 in 2014. The country is home to 70% of the world's tigers.
Ustad, who lived in the 400 sq km (99,000-acre) Ranthambore National Park, popular for its tiger safaris, was shot with a tranquilising dart and driven to a zoo 400km (250 miles) away earlier this month.
He had been declared the prime suspect in the killing of a 53-year-old forest guard on 8 May. He was also accused of killing a 23-year-old local man in 2010 and a 19-year-old boy in March 2012.
The tiger is now is caged in an enclosure smaller than a football field in a zoological park in Udaipur district.