Scientists amazed by isolated group of koalas in New South Wales that have developed a taste for the bark, as well as leaves, of eucalyptus tree species
An isolated group of koalas has baffled Australian ecologists by developing a taste for the bark, as well as leaves, of a particular species of gum tree.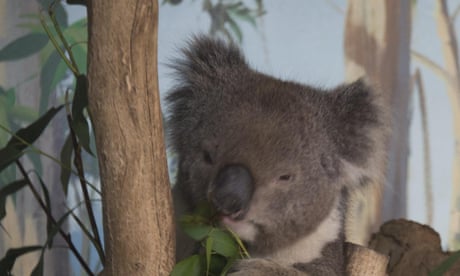 The behaviour is widespread among several hundred koalas found in
New South Wales
– but is limited to the brittle gum, Eucalyptus mannifera, and only some individual trees.
Proposal to euthanise koalas with chlamydia divides expertsBark-eating has been observed in koala colonies in other parts of the country, but not on the same scale as among this population – found in the north-east Monaro region of southern NSW – spread over an area of between 20,000 and 30,000 hectares.
Landowners had reported the behaviour as long ago as 2003, but there was insufficient evidence to convince other scientists the scarring of tree trunks was not the work of other animals, such as cockatoos or yellow-bellied gliders, said Chris Allen, threatened species officer with the NSW Office of Environment and Heritage. "It was felt to be so unlikely that it was koalas," he said.