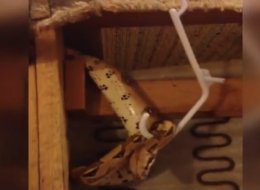 Now here's a story guaranteed to make you squirm.
A woman in Michigan recently got the surprise of her life when she discovered a large reptile coiled in the folds of her couch.
According to ABC News, Grand Rapids resident Holly Wright made the shocking find over the weekend, when she spotted a large snake slithering around in a secondhand couch she had picked up.