A massive sperm whale was laid to rest in a landfill recently after being transported from its stranding site in the bed of a tractor-trailer -- an odd sight for any Scottish drivers on the road at the time.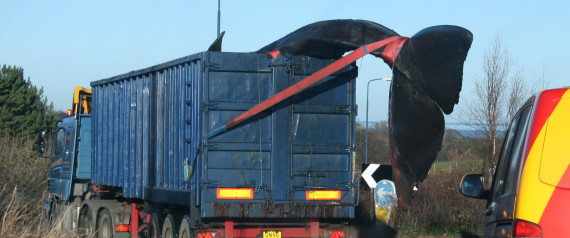 The whale stranded on Portobello Beach in Edingburgh, Scotland last weekend. Because this monstrous cetacean was so big -- weighing 28 tons and measuring 45 feet long -- it was logistically difficult to bury and necropsy on site, and had to be transported away.
Original reports attributed this whale's death to boat strikes, but there was "no evidence" of this, Dr. Andrew Brownlow, the Scottish Marine Animal Stranding Scheme's Veterinary Investigation Officer, said in an email to The Huffington Post. "The 'cuts' previously identified by others were in fact normal anatomical grooves which had abraded so they looked like traumatic lesions," he said. Toxicology, DNA and diet analysis samples taken at the necropsy lent no evidence of "anthropogenic trauma" or disease.