Police found the 3ft-long alligator in the Inwood neighborhood of upper Manhattan on Thursday and took it to an animal care center, where it later died
The NYPD's 34th Precinct tweeted this photo of the alligator on Thursday: 'So this alligator was crossing 9th Ave in #Inwood...no, really. At 205 Str. Cops took him to Animal Control.' Photograph: 34th Precinct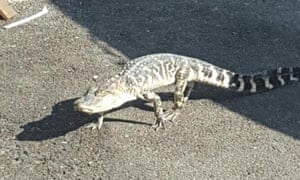 Friday 24 July 2015 20.52 BSTLast modified on Friday 24 July 201521.18 BST
A stray alligator found wandering Manhattan streets has died, according to a statement from animal control officials of
New York
City.
The New York Police Department's 34th precinct found the 3ft-long alligator in the Inwood neighborhood of upper Manhattan on Thursday and took it to the animal care center. On Twitter, police posted a photo of the alligator, saying, "So this alligator was crossing 9th Ave in Inwood...no, really."
The alligator, which staff at Animal Care and Control had named CockadoodleQ, died this morning.
"We have no knowledge of the conditions of CockadoodleQ had lived in prior to his arrival that contributed to his death. Exotic animals such as alligators are illegal to have as pets in New York City," Alexandra Silver, a spokesperson for Animal Care and Control, said in an email.