Elusive cat-sized member of the stoat and weasel family believed to be extinct may have been living in the Shropshire hills for years
Wednesday 15 July 2015 15.35 BSTLast modified on Thursday 16 July 201500.00 BST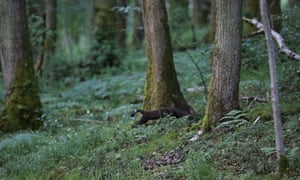 This is the first confirmed sighting
of a pine marten in England for a
century. Photograph: Shropshire Wildlife Trust
The first conclusive sighting of a pine marten in England in over 100 years suggests that the elusive domestic cat-sized member of the stoat and weasel family may have been living in the Shropshire hills for years.
Amateur wildlife recorder Dave Pearce took two photographs of the dark brown creature thought to be extinct, in a wood in south west Shropshire last week. The photographic evidence has now been verified by Stuart Edmunds, chair of the Shropshire mammal group.
"The pictures proved conclusive. We matched the exact tree that the pine marten was passing with the pictures that were taken. We have now put out lots of camera trails [traps] to see if the animal or his family – lives in the area. There is a real possibility that they may have been living here right under our noses for a long time.
"There have been rumours of pine martens in England on and off for years. Most of these, on close enquiry, have proved to be domestic cats, mink and even black squirrels. A sighting in Staffordshire in 2007 was almost certainly an escapee from a nearby wildlife sanctuary," said Edmunds.