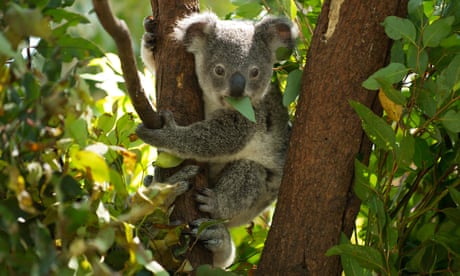 New South Wales government is failing to protect koalas by allowing further land clearing, logging and habitat destruction, National Parks Association says
Michael Slezak
Sunday 6 November 2016 19.15 GMT Last modified on Sunday 6 November 2016 19.17
Koalas are "under siege" across NSW, with three separate policies poised to be implemented set to destroy their remaining habitats, according to a briefing paper written by the National Parks Association of NSW.
In light of the increasing threats, the paper calls on the NSW EPA to protect koala habitats.
"The NSW government is completely failing to conserve and protect koala habitat," the report says. "Koalas can lay claim to be the most poorly managed species in eastern Australia at present – which is hugely disappointing in light of their beloved status."
The report finds the habitats of the declining koala populations are being threatened on public land by plans to renew agreements allowing the logging of native forests; on private lands by weakened clearing laws proposed by the Baird government; and by a failure of local government protections to identify more koala habitats as they are intended.
Between 1990 and 2010, Koala populations in NSW were estimated by the federal government to have declined by 30%. And a report released in May by the NSW Environmental Protection Agency found that all koala populations in NSW, with one possible exception, have continued to decline, with at least one population now considered endangered.
That EPA report also found there were more koalas in forests that were more mature. It therefore concluded that logging was bad for koalas, since even if the forests are replaced, it reduced the maturity of the forests.
Continued