An unprecedented number of mostly young whales have become stranded on the West Australian coast since 2008
Australian Associated Press
Poor nutrition has led to a rise in the number of stranded humpback whales on the West Australian coast, veterinary researchers have said.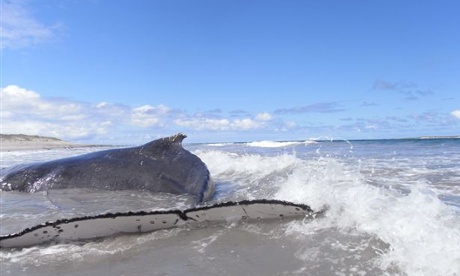 A juvenile humpback whale stranded on a beach
at Windy Harbour, near Pemberton in WA's
south-west. Photograph: WA Department of
Environment and Conservation/AAP
Carly Holyoake, from Murdoch University, at the Australian Veterinary Association's annual conference in Perth on Wednesday, said an unprecedented number of mostly young whales had become stranded on the coast since 2008.
Between 1989 and 2007, the average number of humpback whales coming ashore was two or three, she said.
But in 2008, there were 13 strandings, followed by 46 in 2009 and 16 in 2010.
In 2011, there were 17 strandings involving 14 calves and three juveniles, representing a rise in the number of young whales dying compared with previous years.