4:42 PM Wednesday May 14, 2014
Scientists have discovered a pre-historic mainland species of sea lion thought to have been wiped out by Polynesian settlers and replaced by the modern New Zealand sea lion.
A team of Otago University biologists believe the pre-historic species, which once dominated South Island shores, became extinct as recently as 600 years ago before a lineage previously limited to the waters of the cold subantarctic took their place.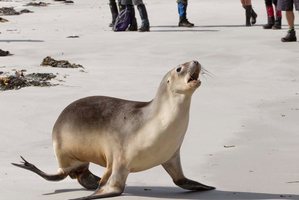 The discovery, published today in the international journal Proceedings of the Royal Society B: Biological Sciences, was made during a Marsden-funded study which aimed to investigate changes in the New Zealand sea lion population since human settlement.
Professor Jon Waters, who led the study, said it was suspected there may have been an extinction-replacement event in the New Zealand sea lion, something which had already been established in yellow-eyed penguins.