After two years of recording the surprising relationship between a baby giant armadillo and its mother, scientists have found the juvenile dead in the Brazilian Pantanal.
Monday 29 June 2015 06.28 BSTLast modified on Tuesday 30 June 201515.16 BST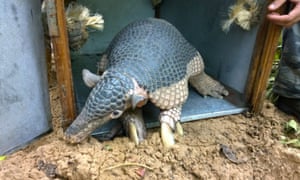 For almost two years, Alex the giant armadillo has been the most famous of his little-known and cryptic species. Born in June of 2013, photos and videos of Alex appeared across the global media, including the BBC, National Geographic and
Mongabay
. From Alex and his mother, Isabelle, researchers learned that giant armadillos are far more parental and familial than long believed.
Two weeks ago, researchers found Alex dead.
"I was truly very sad," said Arnaud Desbiez, the head of the Pantanal Giant Armadillo Project, the first long-term study ever of these mysterious animals. "[Alex] was mortally wounded by a predator most likely a puma and died inside one of his mother's old burrows. "
Desbiez and his team became worried when photos from a camera trap outside the burrow showed that Alex had not left it for several days. Ominously, one of the photos caught a vulture peering into the burrow.