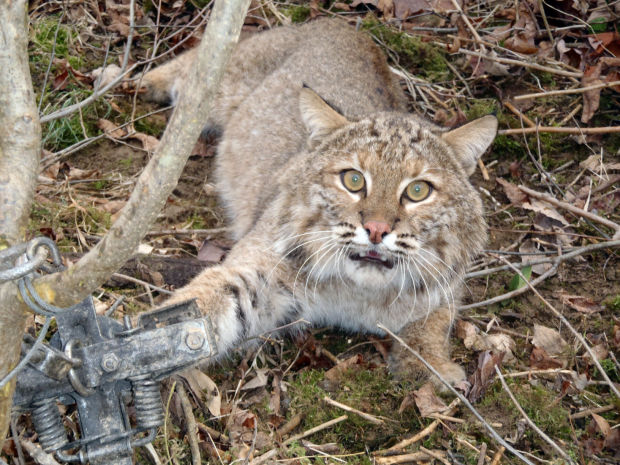 Bobcats are a popular prey for trappers and hunters including untrained and unscrupulous trappers who may have used live bait to entice the cats into traps. State officials hope to outlaw the use of live bait for trapping and state trapping associations are firmly in favor of the proposal.
Bobcats are a wily prey for hunters and trappers.
Also known as lynx, bobcats are found in most areas of the continental United States from southern Canada to southern Mexico.
In South Dakota, the meat-eating cats are most prevalent in the western half of the state, and rarely seen in the northeast part of the state.
Their keen eyesight and hearing make them always wary of danger.
According to the National Trapper's Association Trapping Handbook, larger foothold (spring) traps, cage traps and medium- to large-size body-grip traps can be used to catch bobcats.
Foothold and body-grip traps are sometime hidden in holes or a cubby, a concealment made up with rocks, sticks or logs.
Bobcats trapped alive are usually killed by choking with a catch pole, or by a gunshot or sharp blow to the head. Body-grip traps kill by asphyxiation.
Trappers use fresh meat and catnip to lure bobcats. Rabbits, squirrels and birds are regular parts of its diet.
Strips of colored cloth or a shiny metal object hung from a string blowing in the breeze near a trap set can be used to lure bobcats.
In South Dakota, bobcat trapping season runs from late December to mid-February.
State game officials say it's time to outlaw the use of live mammals as bait in trapping fur-bearing animals.
And representatives from trapping and fur-harvesting organizations in the state agree.
"We were appalled that there isn't a law on the books and that it was even allowed," said Anna Hermanson of Newell, president of the South Dakota Trapping Association. "Everybody pretty much agreed that live animals should not be used for bait."
Reports of live animals — including domestic cats, rabbits and birds — used to bait coyote and bobcat traps prompted the South Dakota Game, Fish & Parks Commission to propose a ban at its May meeting.