Two men, aged 18 and 24, will face court on animal cruelty charges after police seized a video of the alleged attack on the marsupial on Rottenest Island near Perth
Sunday 12 April 2015 03.38 BST
Last modified on Sunday 12 April 201503.57 BST
Two French tourists have been evicted from Rottnest Island, a popular holiday spot 20km off the coast of Perth,
Western Australia
, for allegedly attempting to light a quokka on fire.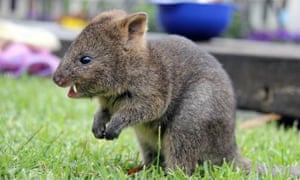 A quokka joey. WA police say two men
aimed lit a stream of aerosol aimed
at a quokka on Rottnest Island,
which was singed during the alleged
attack. Photograph: Taronga Zoo/PR
WA Police spokeswoman Ros Weatherall said the men, aged 18 and 24, allegedly lit a stream of aerosol on fire and aimed the jet of flame at a quokka on April 3.
Weatherall said the animal was allegedly singed during the incident.
It's understood the quokka was not badly injured and managed to run off. It has not received veterinary treatment.
The men have been charged with animal cruelty and bailed to appear in Fremantle magistrates court on Friday.