By Steven McKenzieBBC Scotland Highlands and Islands reporter
22 July 2016
A bottlenose dolphin that was sunburned while stranded out of water on mudflats for 24 hours in May appears to be recovering from its injuries.
The young animal was found by chance at the Cromarty Firth by a couple who had got lost trying to drive to a dolphin-watching spot at the Moray Firth.
Animal welfare officers and members of the public refloated the dolphin.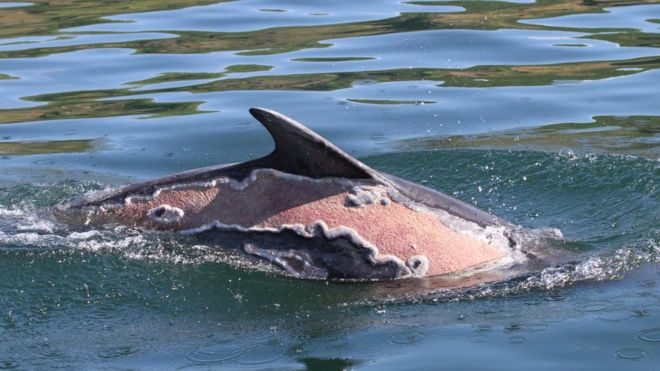 University of Aberdeen
It was sighted again for the first time this month in the Moray Firth by University of Aberdeen scientists.
The university and the Inverness-based Scottish Marine Strandings Scheme (SMSS) said that for the first time in the UK scientists have been able to track a dolphin's behaviour following a stranding.
There are hopes the dolphin might eventually breed and raise young.
Normal behaviour
SMSS said the blistering on the right side of the juvenile female looked "horrific", but because of the make-up of dolphins' skin it has survived a burn that other animals might not have.
Also, crucially, the wound does not appear to be infected and shows signs of healing.